Somerset children's services boss Peter Lewis loses job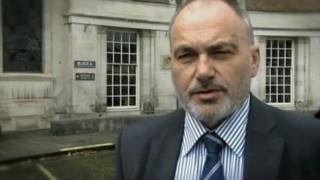 Somerset's children's services boss has been let go by the council, ahead of another inadequate Ofsted rating.
Peter Lewis was brought in 18 months ago to lead the struggling department after his success at Haringey Council after the fallout of the Baby P case.
His cost of £318,000 has previously been criticised by Wells MP Tessa Munt as "absolutely crackers".
Somerset County Council said it made the decision as it had "asked for faster improvement which had not come".
Mr Lewis has been contacted for his response.
The local authority also said Mr Lewis would be leaving the council immediately and, as he was employed via an agency and not the council, there would be no payoff or pension payments.
'Track record'
Chief executive Pat Flaherty said: "I would reiterate there are improvements to the care that we give to children to make sure we keep them safe in Somerset.
"But what we have had is a recent Ofsted inspection of all places - children's homes, children's centres, primary schools - and I am concerned about some of the judgements that I know are coming down.
"Some of our children's centres and some of our children's homes I expect to be judged as inadequate, and that's not acceptable."
In July, the Department for Education (DfE) issued an Improvement Notice after Ofsted gave the lowest rating for child protection.
The DfE said the formal six-month review showed some progress, but there was "still much to do".
The six-month review found 170 (37.5%) child protection plans were inadequate, 190 cases (41.9%) were adequate, 58 (12.8%) were good and two cases (0.4%) were outstanding.
Extra social workers have been brought in over the past 18 months to improve matters - there are now 170 compared to 132 in July 2013.
But recently, two children's homes in Somerset were closed down due to failings in the standards of care provided, safeguarding issues and poor management.
"He was an individual with a reputation, with a track record, and so he came highly recommended; so we tried to invest in the best possible, so I would not say it's the fact of the cost but the value for money," said Mr Flaherty.
Mr Lewis's post will be covered by the chief executive for the time being.