River Tone 'superpond' may stop flooding in Taunton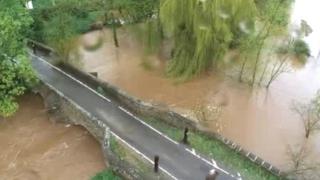 A £16m "superpond" - or temporary reservoir - may be built to prevent flooding in Taunton.
The idea is one of many being debated by Taunton Deane Borough Council to manage future flood risks.
Council leader, John Williams, said: "As the water builds up from the flood it will be impounded by the dam that's constructed."
Feedback from the meeting will be collated ahead of a full council vote set to take place in December.
If built, the dam would be situated upstream of Taunton, near Bradford-on-Tone.
'Peak times'
Although described as a "superpond", the structure will effectively be an embankment and dam.
As it will only be a temporary reservoir, the land can still be used for agriculture at other times of the year.
"The benefit is that it would reduce the level of water running through Taunton at peak times of flood, which, in turn, will help the situation on the Levels and Moors because the water will not get there as fast as it has been," added Mr Williams.
According to the report, it would have the capacity to store 1.8 million cubic metres of water.
Other ideas in the report include building raised flood defences in Taunton.
In the past, the River Tone has burst its banks at Bradford-on-Tone, causing localised flooding in the village and downstream in Taunton.
The council is also working with the Environment Agency and county council to develop the proposals.
A funding bid has been submitted to the South West Local Enterprise Partnership and the council is looking for other possible funding sources.