Harmonie-Rose Allen meningitis baby appeal reaches £100,000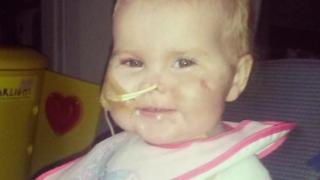 An appeal to raise money for a baby girl who has lost all her limbs due to meningitis has reached £100,000.
Harmonie-Rose Allen from Foxhill, Bath, has been in Bristol Royal Children's Hospital since contracting meningococcal septicaemia in September.
She underwent life-saving treatment and will have to have more surgery after Christmas, doctors have said.
The money will be used for her future rehabilitation including hydrotherapy, physiotherapy and prosthetic limbs.
Doctors gave Harmonie-Rose a 10% chance of survival.
Her mother Freya Hall, 20, said the one-year-old's recovery and adaptation to life without limbs was remarkable.
"She's still my little bright child - my little clever girl," said Miss Hall.
Harmonie-Rose's father Ross Allen said they took her to the Bath Royal United Hospital after she woke up struggling to breathe.
Doctors could not find anything wrong and she was sent home.
She was taken back the next morning after having convulsions but again was sent home.
Hours later she was taken back after becoming lethargic and this time a rash like a bruise was found on her nose.
She was taken to Bristol Royal Hospital for Children by which time her legs and arms had turned black.
"It was the scariest moment of my life," said Mr Allen.
"I really didn't think she would survive the first night."
After spending a month in intensive care Harmonie-Rose began to get better.
"As soon as she woke up she decided to be here and to fight through this horrible disease," said Mr Allen.
She has since undergone more than 10 operations and faces further surgery until she is about 20, doctors have said.
She is using attachments on her stumps to play and is trying to feed herself.
"She knows something's happened and got frustrated at first but now she just wants to do things," said Miss Hall.
Mr Allen and Miss Hall said they were "overwhelmed" by the support they have received.