Harmonie-Rose Allen meningitis baby appeal surpasses £120,000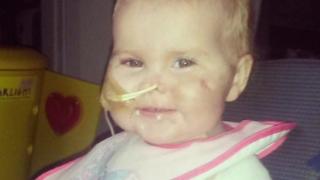 The family of a baby girl who lost her limbs due to meningitis say they have raised more than £120,000 for her care.
Harmonie-Rose Allen from Foxhill, Bath, has been in Bristol Royal Children's Hospital since contracting meningococcal septicaemia in September.
She had to have her arms and legs partially removed in a series of life-saving operations, but was allowed home to visit her family at Christmas.
Harmonie-Rose will require more surgery next year, doctors have said.
Doctors initially gave the youngster a 10% chance of survival. Since then she has undergone more than 10 operations but faces further surgery until she is about 20.
Harmonie-Rose's parents, Ross Allen and Freya Hall, said the money from the appeal would be used for her future rehabilitation including hydrotherapy, physiotherapy and prosthetic limbs.
They have told how they were overwhelmed by the support they have received.
Meningococcal disease: From NHS and Meningitis Research Foundation
Meningitis is an infection of the protective membranes that surround the brain and spinal cord.
This infection causes these membranes (the meninges) to become inflamed, which in some cases can damage the nerves and brain.
Anyone can get meningitis, but babies and young children under five years of age are most at risk.
Symptoms include a high fever, with cold hands and feet; pale, blotchy skin; and a red rash that does not fade when a glass is rolled over it.
Meningococcal infection is the most common cause of bacterial meningitis in the UK and Ireland.
Meningococcal bacteria (Neisseria meningitidis) can cause meningitis or septicaemia, or a combination of these diseases.
Meningococcal disease affects around 2,000 people in the UK and Ireland every year.
Most survivors make a full recovery without long-term after effects, but some are left with disabilities or with problems that can alter their lives.
Mr Allen said they took Harmoine-Rose to the Bath Royal United Hospital after she woke up struggling to breathe.
Doctors could not find anything wrong and she was sent home. She was taken back the next morning after having convulsions but again was sent home.
Hours later she was taken back after becoming lethargic, and a rash-like a bruise was found on her nose. She was taken to Bristol Royal Hospital for Children by which time her legs and arms had turned black.
She was later diagnosed with a rare form of meningococcal septicaemia. "It was the scariest moment of my life," Mr Allen said. "I really didn't think she would survive the first night."