Queen Camel's Countess Gytha school move plans approved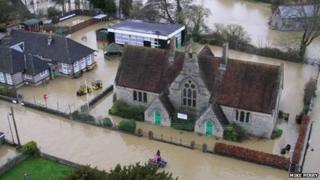 Plans to move a village school in Somerset that has flooded at least six times since 2000 have been approved by councillors.
Countess Gytha School is next to the River Cam in Queen Camel but will now be rebuilt on fields next to the medical centre.
Despite concerns over parking and access to the site, Somerset County Council has approved the plans.
Head teacher Sue English said she was "thoroughly delighted" with the result.
"It's been a long process," she said, "but the children are really excited by a new school and we're looking forward to a school that is fit for the 21st Century."
In 2008, the school was deluged with 20cm of water during flash floods after torrential rain.
'Really bad experience'
Councillor Mike Lewis said: "The River Cam was rising two inches every minute during the height of the flood; I was there when it was flooding.
"It was a really bad experience and it was fortunate that the pupils were not at the school at the time."
He added there was further disruption as lessons had to be abandoned and pupils' education was affected significantly.
In 2011, councillors agreed to spend £2.75m on the new building.