Bridgwater Tesco store plans are shelved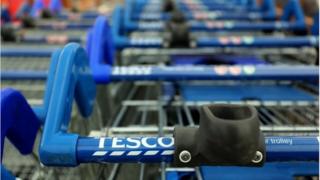 Tesco has dropped plans for a store in Bridgwater, Somerset as it seeks to reduce its overheads by 30%.
Although the company won approval for the plans at Northgate in 2011 the project had stalled owing to its falling sales and profit warnings.
Last month Sedgemoor District Council made a deal with Tesco to terminate the agreement in return for a payment.
The county council, which part-owns the land, needs to do the same in order to finalise the termination agreement.
'Working hard'
On Thursday, the supermarket chain announced it would be dropping plans to build 49 "very large stores".
It also planned to shut down 43 of its unprofitable stores, many of which are their local convenience shops.
Over the past two years, the firm has faced many difficulties - an accounting scandal and its profits being squeezed by discount grocery stores like Aldi and Lidl.
A Tesco spokesperson said: "We are working hard to achieve a settlement with both councils and hope a solution can be found very soon."
The planned 60,000 sq ft (5,574 sq m) superstore was due to be built on the site of the former Sedgemoor Splash swimming pool.
Tesco signed a development agreement with Somerset and Sedgemoor councils in October 2011, and the following year Somerset County Council, gave Tesco £20,000 towards the planning costs.
Sedgemoor District Council said once the settlement is concluded, both councils will decide what to do with the land.
The council also said, as a section 106 agreement was never signed, the land remains under the ownership of Sedgemoor (60%) and Somerset (40%) councils.