Work begins on Dyrham Park's £3.8m new roof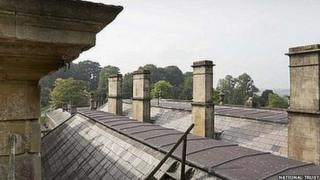 Work has begun to repair the leaking roof of Dyrham Park mansion, near Bath.
Currently, the National Trust-run Grade I listed house has plastic buckets catching water leaking through the 150-year-old roof.
The Trust said 46 tonnes of lead on the roof and 8,000 Welsh slates will need to be replaced as part of the £3.8m scheme.
Project manager Colette Cuddihy, said: "It is a major project but will give us a roof which will last over 100 years."
Built between 1692 and 1704 by William Blathwayt, the Secretary at War for William III, Dyrham Park houses a collection of 17th Century Dutch furniture, art and ceramics.
Despite repairs to the roof over the past 25 years, the Trust said it had now "reached the end of its effective lifespan".
"With water leaking through the lead covered roof, the future of the house and its important original collection depended on us being able to do these vital repairs," said Ms Cuddihy.
"It is the first really major structural restoration since Colonel George Blathwayt carried out his restoration work in the Victorian era."
The house, which attracts more than 160,000 visitors each year, will remain open to the public during the building work.