Car-meet tribute to Somerset teenager killed in car accident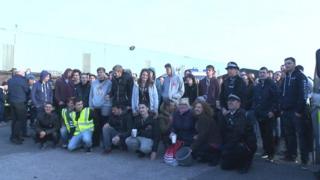 A charity car-meet has been held in memory of a teenager who was killed in a car accident in Somerset last month.
Zac Tame, 18, from Cheddar, died when his car hit a garden wall near Wedmore on 14 December.
Friends of the teenager gathered over the weekend in Cheddar, to pay tribute to him and raise awareness of the importance of road safety.
Wrist bands and car stickers were also sold to raise money for the emergency services that tried to save him.
Lauren Hynds, one of the Zac's friends, said: "We wanted to show awareness for driving safety, raise as much money as possible for the amazing emergency services we have, and to show how loved Zac really was."