Bath's Victoria Bridge reopens after £3.4m repair work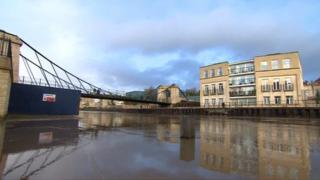 A Grade II listed bridge in Bath has officially reopened after a £3.4m project to make it structurally sound.
Victoria Bridge links Upper Bristol Road to the Western Riverside. It was closed in 2010 after engineers found defects in the structure.
Most of the bridge has been reassembled with new steel parts, but much of the original stonework remains.
The bridge was built in 1836 in a design by Bath resident James Dredge, a brewer and bridge builder.
The structure is known as a 'taper' suspension and was the first of over 50 built around the world.
English Heritage risk adviser, Ruth Garner, said: "It's a prototype from a system of suspension bridges where they used chains rather than cables coming down from the suspension bit.
"It uses chains that are linked together and riveted at an angle.
"This made the bridge a lot less heavy and also took less time to construct."
The bridge was open to pedestrians during most of the repair works, but boats were stopped from going underneath it due to safety concerns.