Christopher Taylor River Avon death inquest starts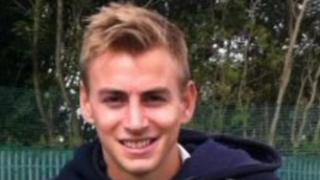 A student who was found dead in the River Avon in Bath last year had twice the legal drink-drive limit of alcohol in his blood, an inquest heard.
Christopher Taylor, 21, from Merseyside, was walking home after celebrating the end of his exams when he fell in to the river, on 23 January.
Avon Coroner's Court heard from passer-by Luke Thompson who called 999 after hearing Mr Taylor's cries for help.
Mr Thompson told the court he also tried to pull Mr Taylor from the water.
After scrambling down the bank, he said he had been unable to reach Mr Taylor and instead grabbed a branch and told the University of Bath student to hold on to it.
But he said "within minutes" of the police arriving Mr Taylor went under the water and disappeared.
Police officers and fire crews continued to search for him until his body was found later that morning.
The inquest continues.