£150k 'Cat's gravestone' bought by Somerset Museum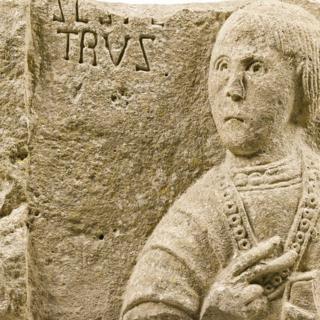 A stone carving used as a cat's gravestone has been bought by a Somerset museum for £150,000.
The limestone panel of St Peter was found at a quarry by an Ilminster builder, who used it as a grave marker in his garden after his tabby cat died.
The importance of the medieval relief, which is thought to date from about AD 1000, was only discovered after the owner's death in 2004.
It is due to go on permanent display at the Museum of Somerset from Saturday.
Carved from oolitic limestone, the 45cm (18 inch) square relief depicts the saint as a bishop with his right hand raised in blessing.
The Anglo-Saxon carving also includes an inscription, identifying the figure as St Peter.
Steve Minnitt, from the the South West Heritage Trust, said it was unfortunate its importance was only discovered after the owner's death.
'Place of origin'
"We don't know exactly where he found the sculpture but the oolitic limestone is typical of south Somerset so we can be fairly certain that it was created for a local religious building," he said.
"Muchelney Abbey lies close by and is one possible place of origin. The abbey was dedicated to St Peter and St Paul."
The carving was originally sold at Sotheby's 10 years ago for £200,000, after it was spotted lying in the garden in Dowlish Wake.
The Museum of Somerset was able to acquire the piece when it came up for sale again, with the help of a £78,600 grant from the Heritage Lottery Fund.
It will go on display at the museum in Taunton from 17 January.