Hinkley Point C excavations unearth bones from the Dark Ages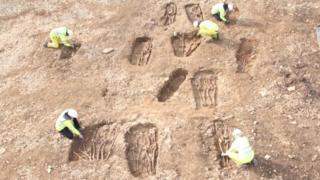 A Dark Ages cemetery and more than 100 burials has been unearthed at the site of a new nuclear power station.
The discovery is one of many by archaeologists who have spent years excavating ground where Hinkley Point C is being built in Somerset.
Flint tools dating from the Neolithic and Bronze Age periods and Roman building remains were also found.
All the results of the dig, which began in 2012, are being revealed in an exhibition at the Museum of Somerset.
As part of the planning process for the power plant, the law required the digs take place in order to establish the "likely impacts on the historic environment".
Last week more heavy machinery began arriving at Hinkley Point C to begin the groundworks for the new nuclear power station which, according to estimates, will cost £24.5bn.
The project is being led by EDF Energy.
---
What did Cotswold Archaeology find?
A Dark Age cemetery with more than 100 burials (dating from the 7th Century)
Remains of a Roman period stone building used for drying cereal crops
Everyday items including pottery, coins and brooches, and fragments of imported pottery
Remains of a sunken-floored building which may date to the Sub-Roman period or Dark Ages
Evidence of hunters and gatherers, from tiny worked flint tools called microliths, dating back 10,000 years
Evidence people lived on and farmed the land during the Iron Age and Roman periods
A number of flint tools dating from the Neolithic and Bronze Age periods
Two parallel ditches dug from east to west, used to divide land in the Bronze Age
---
Further work is being carried out on the site where the Dark Ages cemetery was unearthed and the remains will be curated by the South West Heritage Trust.
It will take several years to clean, identify and document all the finds which will also be deposited with the trust.
Trust member Councillor David Hall said the discoveries will help uncover "the remnants of a complex story".
He said: "Believe me - there have been some surprising finds.
"For those who know the area well, and for those who are new to it, the exhibition is an important chance to understand more about Somerset's rich past."
The exhibition is running at the Museum of Somerset, at Taunton Castle, until 11 April.