River Avon deaths: Christopher Taylor and Sammuel Amin died from drowning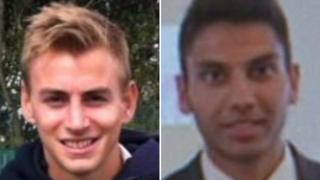 Drowning caused the deaths of two men who fell in the River Avon along the same stretch of towpath in Bath, coroners have ruled.
Christopher Taylor, 21, from Merseyside, was walking home after celebrating the end of his exams when he fell into the river, last January.
And the body of Sammuel Amin, 18, from Twerton was recovered from the river on 16 September.
In separate inquiries, Avon coroners recorded narrative verdicts.
The two men are among several who have died along the River Avon next to Sainsbury's on Green Park Road in the past three years.
In the hearing into Mr Taylor's death, the court heard from paramedic Edward Bowyer from South West Ambulance Service, who attended the scene.
Mr Taylor had been walking home after celebrating the end of his exams when he fell into the river. A passer-by heard his cries for help and called 999.
Safety buoys 'empty'
Mr Bowyer said water safety buoys along the stretch of river were all empty and had this not been the case, Mr Taylor may have been saved.
Coroner Maria Voisin said she would be writing to the supermarket to make sure the firm took responsibility for safety buoys on its land.
Mr Amin had just finished his A-levels and was due to start university when he went missing after a night out. His body was recovered from the river several days later.
The Environment Agency recently installed temporary railings along the downward slope from Green Park Road following a safety review.
Bath and North East Somerset Council's strategic river group has been allocated £400,000 to improve safety in the area.
Permanent fencing is due to be installed on 19 January, the council said.