Bath's Julian House hostel adds more beds during cold snap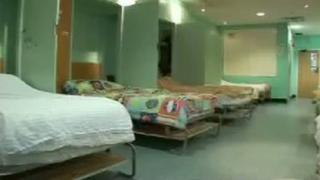 A shelter for homeless people has brought in extra beds to cope with demand during the recent cold weather.
Julian House, in Bath, normally has a maximum capacity of 29 beds but said it had put 10 extra army surplus beds in the dining area.
Spokesman Cecil Weir admitted it would be a stretch on resources but said it was nothing compared to sleeping out in sub-zero temperatures.
He said the measures would continue while temperatures remained low.
"For our clients surviving with a few blankets and maybe a damp ripped sleeping bag is life threatening," Mr Weir said
"We monitor the weather forecast carefully to see when things are going to get dangerous.
"Over the weekend we were able to accommodate another 10 clients on Friday and nine on Saturday - a pattern which will probably be repeated on Sunday and Monday."