New site found for Weston-super-Mare's RNLI lifeboat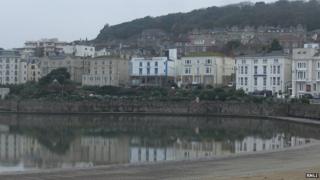 A site has been found for a permanent lifeboat station in Weston-super-Mare.
Lifeboat crews have been operating from a temporary station since 2013 after its HQ on Birnbeck Pier was closed due to safety concerns.
After "years of searching" the RNLI has now identified Madeira Cove as a "permanent solution" and will apply for planning permission later in the year.
Howard Richings, from the RNLI, said it was the "first really practical alternative location that has come up".
The RNLI had been stationed at Birnbeck Island for more than 130 years and continued operating from the site long after the pier was closed to the public.
The organisation said it had hoped the pier would be refurbished by its new owners to allow it to "retain its presence on the island".
"There have been a number of false starts and dashed hopes relating to the refurbishment," said Mr Richings.
"We have reached the limits of how long we can wait."
'Sensitive location'
At Madeira Cove, the charity plans to use an existing slipway in Knightstone Harbour and build a new deep water launch site at Anchor Head.
Both sites are on land owned by North Somerset Council and would involve moving a sculpture of Steep Holm, installed in 2010.
"To obtain planning consent in such a sensitive location we recognise that the design will have to be sympathetic with the site," said Mr Richings.
"But I believe that the RNLI can rise to such challenges."