WW2 pillbox turned into bat roost near Taunton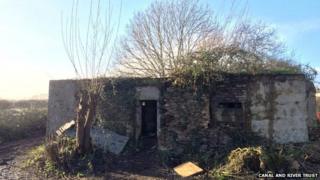 Work has begun to turn an abandoned World War Two pillbox on the banks of the Bridgwater and Taunton Canal into a home for bats.
Volunteers and staff from The Canal and River Trust will create spaces inside for the crevice-dwelling creatures to roost in.
The door to the 1940s building, in Creech St Michael near Taunton, will be locked to prevent disturbance.
Work is due to be completed on the project by the end of March.
Canal and River Trust ecologist Laura Plenty said: "We are very lucky in the south west as almost all of the species have been found breeding here."
David Viner, from the Canal and River Trust, said: "The pillbox is an interesting example of the defensive structures built in 1940 at the most critical part of the war, and adds to the rich history around the canal.
"While there are quite a number remaining, it's tricky to find new uses for them, because they are fairly small and not very adaptable.
"Converting this one into a bat hideaway is a perfect use for it, as it both protects the building and local wildlife."
Pillboxes were part of a defensive line against an expected invasion by German forces during WW2.