Hinkley Point B reactor shut down for maintenance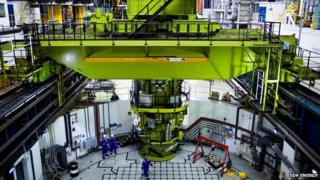 One of the two nuclear reactors at Hinkley Point B power station in Somerset is being taken out of service for routine maintenance.
EDF Energy said it would be turned off at about 22:00 GMT and be out of action for 10 weeks while 12,000 separate pieces of work are carried out.
The £40m project includes replacing two gas circulators which help cool the reactor, and replacing turbine blades.
The inside of the reactor will also be inspected and new equipment installed.
Hinkley Point B's other reactor will continue operating throughout the period.
A spokesman said the maintenance periods, known as "statutory outages", take place every three years and are planned in advance with the National Grid to ensure there is no impact on the national electricity supply.
Outage manager, Mike Davies, who said: "Taking the reactor out of service means we can inspect it and carry out maintenance which we wouldn't normally be able to do.
"Inspections will take place inside the reactor as well as in its boilers."
Hinkley Point B's two reactors started operating in 1976. The power station is due to continue working until 2023.