Nailsea's Middle Engine Pit 'in poor condition'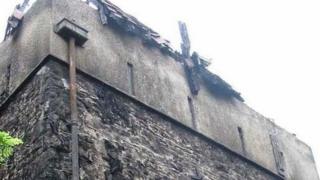 One of the country's most complete early 19th Century collieries has fallen into "poor condition", English Heritage has said.
Middle Engine Pit in Nailsea is owned by North Somerset Council and is currently on the "at-risk" register.
English Heritage said it was now "concerned" about the site, which was been subjected to "arson and vandalism" over the past few years.
The council said it has carried out site maintenance work.
The coal mine complex, also known as Elms Colliery, was in operation between the 1820s and the 1850s.
It was scheduled as an ancient monument in 1985 and the site includes three Grade-II listed buildings, including an engine house.
'Work closely'
"The danger is it will fall into complete dereliction unless something is done fairly soon," said Ian Morrell, Nailsea's town clerk.
English Heritage said it was "working closely" with the council to help restore the site.
"We can stabilise it but it will take a number of years to bring the site back into a usable condition," said Nick Croxson, the organisation's at-risk manager.
A council spokesman said it had carried out tree clearance and applied for funding to repair the "unstable boundary wall".
"The next project to carry out is to stabilise the buildings - we will be looking for grant aid to do this work too," he said.