National Trust to close Wells shop despite protest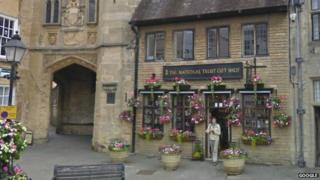 The National Trust is to close one of its nine shops in Somerset despite a growing petition against the move.
More than 2,000 people have joined the campaign to keep open the Wells shop but the trust insists it is not viable.
Wells resident Alan Williams believes the trust should have consulted people locally, describing his petition's support as "absolutely overwhelming".
Spokesman Simon Larkins said the shop's seven members of staff were notified last year and were being supported.
Mr Williams, who has collected 2,200 signatures with his wife, said: "I didn't know the shop was losing money, and on those grounds obviously you can't run a business, I appreciate that.
"But it would have been more sensible for the National Trust to hold a meeting, talk to the local people and the Chamber of Commerce, and then give them the situation."
For more than two decades the High Street shop has sold cards and gifts and offered membership opportunities.
Mr Williams understands it will close from 22 February.
Trust manager for North Somerset, Simon Larkins, said it was "not an easy decision" but the shop had not been performing as a viable business for the last five years.
"The money made in that shop is spent on the sites around Somerset, such as Tor Hill Woods, Glastonbury Tor, the Mendips and Brean - but at the moment it's not generating money to invest in conservation work," he said.