Somerset Day date chosen after public online vote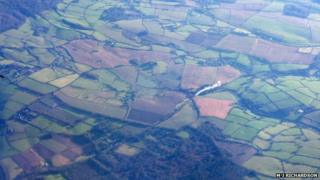 The date for a day to celebrate "all that is great" about the "wonderful county" of Somerset has been chosen, the group behind it has said.
Somerset Day will take place on 11 May, in honour of King Alfred the Great.
Passion for Somerset, a group of local businesses, had been running an online public vote to find a date for the county-wide event.
There were three days in the running, each with a special link to the county. The winning date took 51% of the votes.
The other dates were 19 May, in honour of St Dunstan, and 6 July, the Battle of Sedgemoor.
Sedgemoor came second with 47% of the votes, while St Dunstan came third with 2%.
Voting was supposed to end on 16 January but was extended by the group until Saturday, due to a "sudden late surge" in voting and media interest.
John Turner, from Passion for Somerset, and Visit Somerset, said the county was the third largest county in England.
"Somerset needs some identity," he added.
"Actually having a day for Somerset, like many of our county counterparts have, will really start to get the message out that Somerset has something really, really special.
"We're very frustrated as organisations because we don't feel that Somerset in the past has actually had the support and the impetus behind it that it actually deserves as a county."
Mr Turner said that "well over" 7,000 people voted in the poll, although the final number was still being calculated.
In 878, Alfred the Great, King of Wessex, gathered "all the people of Somerset" to march against and defeat the invading Viking army.
By the time of his death he had become the dominant ruler in England and is the only English monarch to be accorded the title "the Great".
St Dunstan was born in Somerset around 910 and was for a long period the most popular saint in England.
After being the Abbot of Glastonbury, he became Bishop of Worcester, then London, and finally Archbishop of Canterbury.
The Battle of Sedgemoor on 6 July 1685 was the final battle of the Monmouth Rebellion, the last time Englishmen fought Englishmen.
About 1,300 rebels were killed, and another 500 captured during the fighting. The Duke of Monmouth was later executed at the Tower of London.