Hinkley Point £128m community fund 'not new money' fear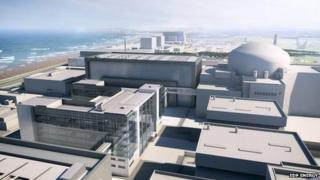 Sedgemoor District Council has raised concerns of how a £128m community fund linked to Hinkley Point's planned power station will be funded by government.
The Community Benefit fund aims to benefit those affected by the nuclear build by boosting local amenities.
There are fears though the government will re-direct the council's business rates revenue to the fund instead of allocating additional funding.
The government has not confirmed how the fund will be paid for.
'Don't want confusion'
A Department for Energy and Climate Change spokesman said: "The benefit package for communities hosting Hinkley Point C could amount to approximately £128m.
"It will be funded in two distinct phases and be proportionate to the amount of energy the power station generates."
The fund is to run for 40 years during the planned lifetime of the power station.
But Sedgemoor council's corporate director Bob Brown, said: "When we speak to government departments they're not clear that it's new money and it's getting that absolutely clear so we can go to the communities who've got an expectation that money is coming and spend it on the impact that's coming."
As a result of the confusion, Sedgemoor District Council is planning to continue lobbying central government for clarity on the issue.
"We don't want confusion and it would be a big disappointment for the communities if they found for the first six or seven years, they're not going to get this money because it's part of the core funding that would be coming from the government," added Mr Brown.
Business rates are collected by local authorities and given to central government, which then re-allocates a share of this money back to councils.
From 2020 however, the rates will be kept by local authorities to spend on core services such as bin collections.