Hundreds of pregnant sheep stolen near Martock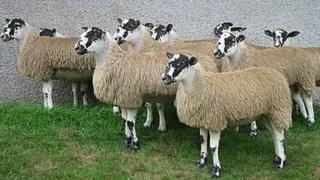 A large flock of pregnant ewes stolen from a Somerset farm has been described by police as "a devastating crime".
Some 200 North Country Mules were taken from a field at Ash, near Martock, last Friday night and the vehicle used to steal them was later found burned out.
All the sheep were ear-tagged and marked with a red patch on their backs and orange on a front shoulder.
Police believe it could be connected to a separate farm theft from Long Sutton of sheep feed, equipment and hurdles.
PC Rowan Hawkins, from Avon and Somerset Police's rural crime team, said: "Stealing a flock of ewes due to give birth soon is a devastating crime for a farmer, and it appears to be linked to two other burglaries in South Somerset.
"To take such a large number of animals is a highly organised crime and will require access to suitable facilities."
The stolen vehicle was recovered in Ilford, near Ilminster, after being torched.