Bath's Christ Church bells restoration completed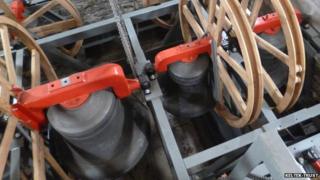 Eight bells and their frames at Christ Church in Bath have been restored in a £115,000 project.
The largest, a tenor bell, was cracked, while the wood and metal frames that contain the instruments were starting to rot and corrode.
Canon Angela Townshend said: "It's taken a lot of work by volunteers and people who've given their money."
The bells will ring out next Sunday to mark with the canon's last service before her retirement.
'Soft' bells
Over the past seven months, soundproofing work has also been carried out to control and direct the noise of the bells.
"We've made provisions to be able to ring the bells more quietly," said the canon.
"On Sunday mornings we can make them louder.... they will be loud occasionally but when we're practising they will be soft and hardly noticeable."
The church bells have not been in use for a number of years because they were deemed "too loud" and unsafe.