M5 Bridgwater Huntworth roundabout gets £2.9m upgrade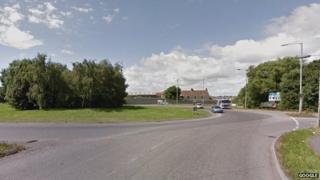 A roundabout off the M5 motorway in Somerset is to get an upgrade after the approval of a £1.9m grant.
Somerset County Council received the grant from a regional growth fund for the Huntworth roundabout off junction 24 of the M5 at Bridgwater.
Conservative county councillor and fund panel member, David Hall said: "There's bound to be some congestion but it's all for the long-term good."
Another £1m towards the plan has come from developer contributions.
'Acutely aware'
The money has come from the Heart of the South West Local Enterprise Partnership's Growth Deal.
The partnership is made up of local councils and businesses and aims to boost economic growth.
Mr Hall said: "Everything will be done to make sure we minimize disruption and that it doesn't conflict with other roadworks being done in Bridgwater.
"It's not a perfect solution but we are acutely aware of the challenges people are facing."
The work will see traffic lights installed and better access for cyclists and pedestrians.
The lights will feature new technology to control the length of queues from the M5 into Bridgwater.
The project is being co-ordinated alongside other road improvements being made as part of the new nuclear plant planned at Hinkley Point.
Work should be completed by next March, the council said.