Muchelney main road raised to stop it flooding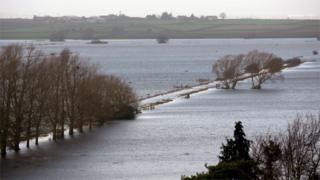 Work to raise a road into a Somerset village to stop it being cut off by floodwater has been completed.
A 500m-stretch (547 yd) of Drayton Road, the main road into Muchelney, has been raised by more than 1.2m (3.9 ft) at its lowest point.
The work had been due to finish in December but was delayed due to the poor weather.
Leader of Somerset County Council John Osman officially opened the road at 11:00 GMT.
Although the village largely escaped the floods in January 2014 it was cut off for about 10 weeks.
Ferry boats were used to transport villagers and supplies in and out.
The work was funded by the Department for Transport and completed in half the normal time.
Mr Osman, who is also chairman of the local Flood Action Plan, said the floods "caused a great deal of disruption, fear and concern for the village".
He said: "The reopening is the culmination of a huge amount of hard work by a lot of people.
"This project should ensure that does not happen again."
Large parts of the Somerset Levels spent much of the winter of 2013-14 under water as the South West was battered by storms
Villages were isolated, homes evacuated and the farming community was in disarray.
The road reopened to traffic at 15:00 GMT.