'Goodbye daddy' letter lost in car park returned to girl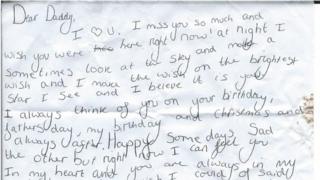 A "heart wrenching" letter written by a young girl to her dead father has been returned to her after being lost in a pub car park.
In the letter the girl, named Summer, writes: "I sometimes look at the sky and make a wish on the brightest star I see and I believe it is you".
The landlady of the Prince of Wales Pub at Ham Hill in Somerset began a Facebook appeal to trace the child.
Earlier the page was updated to say the letter is now back with the author.
Summer had tied the letter to a balloon and was intending to release it on top of local beauty spot Ham Hill but when she and her family arrived at the top of the hill they noticed the letter was missing.
Landlady Nicki Holroyd said: ''One of our customers handed it in.
"It's the most heart wrenching letter from a young girl who has written the most lovely letter to her dad who has died and is in heaven."
After posting about the letter on the pub's Facebook page at about 09:00 GMT it was shared about 200 times.
The family emailed the pub to say the letter was theirs.
The pub then updated the page to say: "They are very grateful we didn't just disregard it and are pleased to have it back."
The landlady is due to meet Summer and her family on Wednesday evening.