Snooker record attempt for Finley Jackson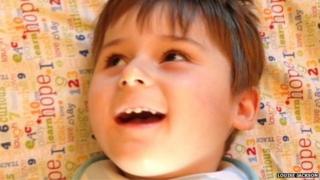 An attempt to break the world record for the longest snooker marathon will begin later to raise funds for a boy with a rare genetic brain condition.
Three-year-old Finley Jackson from Bridgwater, in Somerset, has sodium channel brain disorder which causes him uncontrollable epilepsy.
He is also unable to walk, talk, sit up, eat or drink.
Finley's father Kevin Morris and friend Steve Maynard will attempt to play snooker for 86 hours from 10:00 GMT.
The funds raised will be used to adapt the family home so Finley, who currently has to sleep in the living room, can have his own bedroom and bathroom.
His mother, Louise Jackson, who has given up her job to care for him 24 hours a day, said: "It's really difficult for him with the seizures. A knock at the door, the postman; it can cause him to have a seizure.
"Sleep patterns are difficult to manage and it obviously affects us in our lives having to leave the living room at eight o'clock at night in order for him to get a good night's sleep.
"We've had to go through mortgage rescue which has left us in a position where we are unable to find the additional money for Finley's adaptations, which is why we've turned to the support of the people and are asking for help."
Mr Morris said there was a shortfall of about £10,000 between the cost of the adaptations and the amount of money the council was able to give them.
"Myself and friends got together and decided that we want to break a world record and, while we're doing this, raise funds and awareness for Finley," he said.
"When we first came up with the idea, the record was 76 hours and five minutes and we thought 'we can do that'.
"So we've set the ball rolling and got in contact with Guinness... but I found out last week the record has been beaten recently and it's now 85 hours and 19 minutes, so we've got to do an additional 10 hours."
The record attempt will take place at Break N Dish, in Street. The family has set up a Go Fund Me page for donations.
The current record was set by Keiran Ferns and Gerard O'Loughlin, in Ennis, Ireland.