Drug-dealing gang members sentenced in Taunton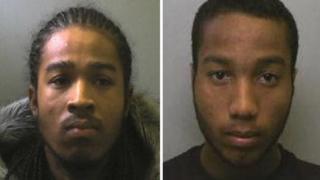 Six people - including ex-Bristol Rovers footballer Michael Boateng - have been sentenced for drug-dealing and money laundering.
Young people were exploited by dealers to sell class A drugs in Taunton and Bridgwater and some £40,000 was put into London-based bank accounts.
At Taunton Crown Court, Boateng was handed a two-year suspended sentence and 300 hours of community service.
On Tuesday, the ring leader Anh-Tuan Tran-West was jailed for eight years.
'Exploiting youths'
Ex-semi-professional footballer Tran-West, 22, from south-east London, received an eight-year sentence for conspiracy to supply class A drugs and a four-year sentence to run concurrently for conspiracy to convert criminal property.
Tran-West was the ring leader who directed young teenagers to travel to Somerset and sell drugs and put the money into bank accounts.
During sentencing the court heard Boateng had a previous conviction for plotting to fix the results of football matches and had spent a "harrowing time" in prison for that crime.
Judge Ticehurst described Boateng as naive but with the potential to change.
He told Boateng: "Everybody deserves a second chance. I'm giving you yours. If I see you again in this court you will go to prison."
Christine Hart, from the Crown Prosecution Service, said: "You've got the bank account evidence which showed that money was being paid in Bridgwater.
"You have evidence of the dealers paying it in, you have it being transferred in a very short time to Boateng's account, transferred to Tran-West's account and then withdrawn."
Det Sgt Paul Lanigan from Avon and Somerset police said the 18-month investigation showed individuals and national gangs were monopolising the illegal drug markets in Taunton and Bridgwater.
He added: "Between 2013 and 2014 we identified a total of 50 offenders who were committing offences of conspiracy to supply controlled drugs and conspiracy to money launder.
"In particular, we identified an organised crime group based in south London, who were exploiting young white and black youths, together with vulnerable adults to supply class A drugs within the local rural towns of Avon and Somerset."
He said the convictions as "removed the key players" of the organised crime group.
Apart from Tran-West, who was sentenced on Tuesday, sentencing took place at Taunton Crown Court on Thursday:
A 14-year-old boy from East Sussex who was used as a runner and sent down to Bridgwater was handed a two-year conditional discharge for two conspiracy offences
A 17-year-old girl was handed a 12-month youth supervision order for conspiracy to supply drugs and conspiracy to convert criminal property
Christopher Longe, 19, from south east London, was sentenced to six years for drug dealing and three years to run concurrently for money laundering
Bridgwater drug dealer, Wayne Clist, 40, of Wellington Road, was given a two-year community order for conspiracy to supply class A drugs
Three others had also previously pleaded guilty of conspiracy to supply Class A drugs, along with one who pleaded guilty to money laundering - all will be sentenced at a later date