Norovirus outbreak closes three Weston General Hospital wards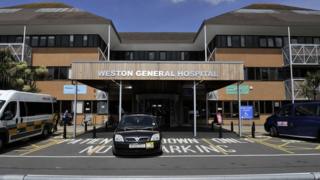 A new outbreak of the norovirus has led to three wards at a hospital in Somerset being closed.
Members of the public have been told to stay away from Weston General Hospital unless their visit is essential.
The hospital said visitors were restricted because the winter vomiting bug was "brought into the hospital from the community".
It has urged people not to come to the hospital if they are feeling unwell with sickness, diarrhoea or fever.
Uphill and Kewstoke wards and the Stroke Unit have been closed, and restrictions are in place until further notice.
This latest outbreak follows two others which occurred at Weston General Hospital over the Christmas period.