Illegal Bristol Airport car parks, call for crackdown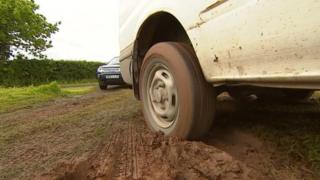 Villagers are calling for a crackdown on unauthorised 'pop up' car parks on farmland near Bristol Airport.
Residents in Blackwell, say roads are not equipped for the increased traffic and want the council to take action.
North Somerset Council agreed it was a "big issue" but said it was continually taking enforcement action against people running the operations.
Councillor Elfan Ap Rees, said: "Many of these illegal car parks are in the green belt - it's just not acceptable."
The council said it currently has in excess of 30 active enforcement notices in relation to illegal car parks.
However, in the last five years only one operator has been prosecuted by the authority.
With the situation "getting worse", according to residents, the parish council is now trying to raise £20,000 to pay for an enforcement officer.
'Parked in fields'
Current legislation allows operators to temporarily use any land for any purpose for 28 days a year.
But parish councillors are hoping the authority can amend the regulations, to "make it easier" to clampdown on illegal car parking.
"Our preference is for proper car parks associated with the airport but many of these illegal car parks are in areas where we wouldn't contemplate development," said Mr Ap Rees, Conservative councillor for ​Hutton and Locking.
"They don't meet regulatory standards, there's a lack of security. Cars are just parked in muddy fields and the whole situation is totally unacceptable."