Acres of Exmoor 're-wetted' and restored to peat bog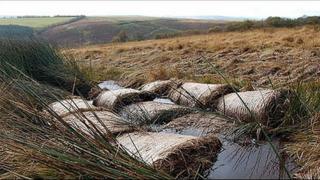 A scheme to 're-wet' thousands of acres of peat bog on Exmoor has been completed, project leaders say.
Since 2010, the Exmoor Mires Project has been restoring degraded peat land by blocking up old drainage ditches in a bid to reduce flooding.
The re-saturated bogs could reduce the amount of storm water running off the moorland by a third, it is estimated.
Lee Bray, from the project, said: "It's like creating a reservoir on Exmoor without actually building one."
Funded predominantly by South West Water, the £2.2m project has seen over 100km (60 miles) of ditches blocked by more than 10,000 dams in the last five years.
"Exmoor was covered in trees but in 7,000 BC hunter-gatherers cut down the forests and it ended up as peat bogs," said Mr Bray, the project's historic environment officer.
"Then there was a great drive for agricultural improvement and a network of ditches was dug to drain a lot of the peat land."
To restore 2,000 ha (4,942 acres) of dried out mires, old agricultural ditches have been plugged with wooden and straw bale dams.
The preliminary results, according to Professor Richard Brazier from the University of Exeter, indicate the restored areas are holding more water and releasing it more slowly.
"Across the experimental site we are seeing a rise in water table levels that can be attributed to the ditch blocking and moorland restoration," said Mr Brazier.
"This enhanced water storage could, when replicated across the whole of Exmoor, provide a significant buffer against downstream flooding in rivers."
Work on a further 500 ha (1,235 acres) of former peat land is due to begin this month, due to be complete by 2020.