Tesco 'pays £9m to councils' over shelved store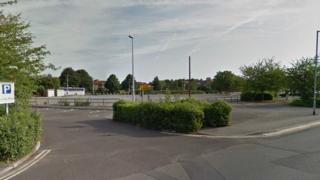 Two Somerset councils say they received payments totalling nearly £9m from supermarket giant Tesco, after plans to build a store were shelved.
In January, Tesco announced it would be pulling out of building 49 new stores, including one planned for Bridgwater.
Sedgemoor District Council said it received just over £5.3m and Somerset County Council more than £3.5m, with both councils retaining joint ownership of the site.
Tesco was unavailable for comment.
Conservative councillor John Osman, leader of Somerset County Council, said it was a "rare win-win situation".
"The county council has received £3.5m but still has a very important site in the middle of Bridgwater for future use," he said.
"We will be working closely with colleagues at the district council to secure a future for Northgate that gets the best for the site and best for the town."
The planned 60,000 sq ft (5,574 sq m) superstore was due to be built on the site of the former Sedgemoor Splash swimming pool.