Tributes to former Weston-super-Mare MP Sir Jerry Wiggin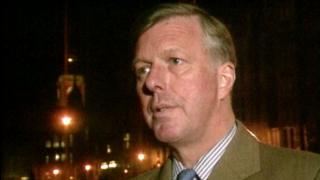 Tributes have been paid to the former Conservative MP for Weston-super-Mare Sir Jerry Wiggin who died aged 78.
Sir Jerry was MP for the town between 1969 and 1997 and died suddenly at home on 12 March, his son Bill Wiggin said.
The current Conservative MP John Penrose said he "served the town well for a very long time".
Clive Webb, a serving councillor and Sir Jerry's former agent, said he was "a good guy" who "worked hard for the constituency".
Sir Jerry was reprimanded by the House of Commons after he tabled an amendment to the Gas Bill in 1995 to exempt holiday homes in the name of fellow MP Sebastian Coe.
He retired in 1997 and the Weston-super-Mare seat was lost to the Liberal Democrat Brian Cotter.
Mr Penrose regained the seat in the May 2005 general election.
He said Sir Jerry had taken him under his wing when he was selected as a parliamentary candidate and had been "really helpful" towards him.