Dunball £1.5m flood platform work completed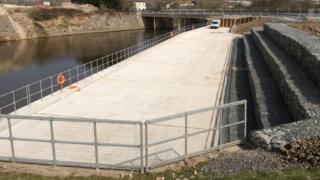 A £1.5m operation to improve flood defences in an area of the Somerset Levels has been completed.
The Environment Agency (EA) said the newly installed platform at Dunball Sluice near Bridgwater means floodwater can now be pumped away more quickly.
Large parts of the Somerset Levels spent much of the winter of 2013-14 under water after storms.
The structure will allow temporary pumps to be installed to start working much sooner during major floods.
Water flows in nearby rivers can also be managed more effectively.
Dunball is situated close to the Severn estuary, where the King's Sedgemoor Drain enters the River Parrett.
An EA spokesman said it is located in a critical position at the lowest point of a river system "that drains most of Somerset".
"This work will allow us to deploy pumps much quicker and with less disruption to the local community," he added.
The work at Dunball is part of a £12m programme of repair and enhancement of flood defence works across Somerset.
It forms part of the Somerset Flood Action Plan that aims to improve flood resilience and protect local homes and businesses.