Musgrove Park Hospital stage emergency rehearsal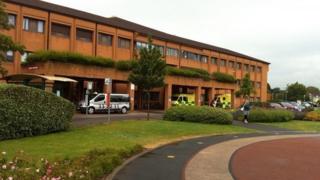 A fire has been staged at Musgrove Park Hospital in Taunton to test how staff and local fire and ambulance services deal with an emergency.
Artificial smoke and water was pumped into an old, unused ward, and volunteers pretending to be patients were evacuated.
Bosses had warned local people "not to worry" if they saw fire engines and ambulances at the site from 19:00 BST.
The hospital had said there would be no disruption to patients.
Nick Booth, the hospital's emergency planning manager, said: "The only thing patients within the hospital will notice is the fire alarm going off and that will sound for two minutes.
"We need to keep developing our plans and keep rehearsing those so that we meet the needs of whatever scenario it is that unfolds."
'No alarm caused'
The exercise was staged outside the main entrance to the hospital's new Jubilee Building on Wellington Road.
Five fire appliances with crews and several ambulances were deployed.
Hospital bosses said an additional fire appliance had been on standby "providing operational cover" for Taunton.
Deputy chief executive Peter Lewis, said: "We normally carry [major incident scenarios] out with minimal disruption to services or awareness by the public.
"However, given the scale of the scenario testing being planned we want to ensure patients, visitors and the public are aware so that we do not cause alarm.
"This testing was shown to have real benefit in the multi-agency response that was seen to the multi-car collision on the M5 motorway near Taunton in 2011."