Bath tipper truck deaths: Victim calls for lorry ban near schools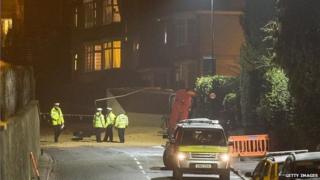 A woman who was injured when a tipper truck crashed in Bath killing three men and a girl has called for a ban on lorries near schools.
Karla Brennan's car was hit by the truck in Lansdown Lane on 9 February near Weston All Saints Primary School.
Ms Brennan said a planned expansion of the school reinforced "the unsuitability of larger vehicles" in areas where pupils might be walking.
Two men arrested in connection with the crash have been bailed by police.
'Suitable access'
Ms Brennan, who was picking her son up from the school at the time of the crash, said road safety rules near schools needed examining.
"The incident raises the question of whether large vehicles should be allowed to travel along or near school roads, especially at busy times such as pick-up and drop-off," she said.
She added that road safety must be "the priority" when councils "decide what vehicles are suitable to access" roads near schools.
Ms Brennan's solicitor, Trevor Sterling, said he was "supporting" her "call for a ban".
"It may be that any change or recommendation made through the ongoing investigations that occurs on a local level should also be reflected in a national strategy around larger vehicles and school sites," he added.
Mitzi Steady, four, from Bath, Phil Allen, 52, and Stephen Vaughan, 34, both from Swansea, and Robert Parker, 59, of Cwmbran, all died in the crash.
Mitzi was walking with her grandmother in Lansdown Lane when she was hit by the truck at about 16:00 GMT in February. The three others victims were in a taxi.
Mitzi's grandmother was seriously hurt in the crash and was left with life-changing injuries.
A 19-year-old man, believed to be tipper truck driver Philip Potter, was questioned on suspicion of causing death by dangerous driving and manslaughter by gross negligence.
Another man, aged 28, was also arrested on suspicion of causing manslaughter by gross negligence.
The inquest into the four deaths has been adjourned pending the results of the police inquiry.