Bath development appeal over 'too big' demolition threat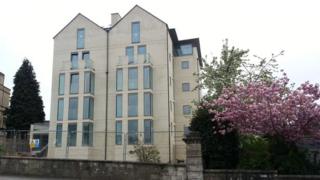 A row over whether a block of apartments in Bath should be demolished or altered has been referred to the planning inspectorate.
The Upper Oldfield Park development is on conservation land and councillors locally say it bears little resemblance to the scheme they approved.
Last week they refused a retrospective application which has now been appealed by Landmark Developments Ltd.
A meeting will be held on 29 April to discuss possible enforcement action.
Speaking on behalf of the developer, planning consultant Mark Willis said they had been "fully cooperating" with officers throughout the entire process.
"There has been continuous and detailed dialogue with both the building control officers, and the planning officers and the enforcement officers the whole way through," said Mr Willis.
He added it would be unnecessary to demolish the whole building as the internal steel frame can be altered. He also argues the changes actually improve the building and its design.
But those against the work say the building is taller and wider than agreed and lacks certain design elements involving its balconies and roof.
Last year, Bath and North East Somerset Council ordered the work to be halted and since then the issue has passed back and forth between councillors and the developer.
Caroline Kay, chief executive of the Bath Preservation Trust, said the location was appropriate for "well considered" redevelopment but this had become a "very unhappy situation for all parties".
"There is a planning principle at stake here, about agreed planning permissions and whether one should agree something different from that retrospectively," she added.
"The important place for this to be thrashed out is now in front of a planning inspectorate appeal, and the outcome that everyone seeks is one that is not harmful to the conservation area and respects planning law as a way forward for taking this panning development on."