Bishop's Palace in Wells celebrates arrival of cygnets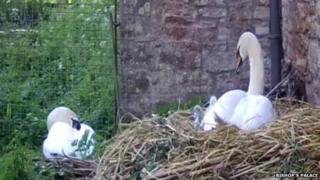 A number of cygnets born at a palace in Somerset are being monitored via a new 24-hour webcam.
The Bishop's Palace in Wells tweeted earlier that five cygnets had been counted following the first sightings.
Last month a "state-of-the-art" infra-red webcam was installed to follow progress while the female swan was building a new nest.
The medieval palace has been home to the Bishops of Bath and Wells for 800 years.
It is also home to the wells and ancient springs that give the city of Wells its name.
The mute swans ring a bell alongside the gatehouse when they want their food.