Dillon Chapman: 'Overwhelming' support for amputee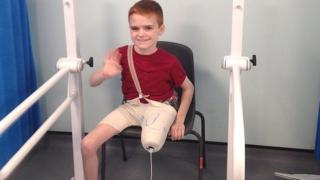 The family of a 12-year-old boy who had his leg amputated say they have been "overwhelmed" by community support.
Dillon Chapman, from Frome, Somerset, has neurofibromatosis - a progressive disorder that results in benign tumours growing in the nervous system.
In February, he made the decision to have his left leg amputated after the tumours in his limb became unbearable.
Inspired by his determination and courage, local people have organised a weekend of events to fundraise for him.
Dillon made the decision to go ahead with the operation after he suffered a series of fractures in his left leg, last year.
"The years I've been alive, it's been difficult," he said.
"Some nights you have a lot of pain and it was just awful and now that I've had the amputation I've had no pain whatsoever.
"My leg's in the past and I'm just looking into the future. I've become a happier person and I'm enjoying life now - it's been the best decision I've ever made."
'Overwhelming and humbling'
To raise money for Dillon, people in Frome have organised a series of events including a make-up party, zumba dance classes and a boxing event.
Dawn Chapman, Dillon's mother, said the support for her son in the town had been "amazing".
"A lot of people have followed his path and the fact that he's so positive and his determination to have a better quality of life without his leg, is testament to the kind of child he is," she said.
"The community rallying around together is quite overwhelming and quite humbling for us."