Rider Jordan McDonald died after horse fell on him, inquest told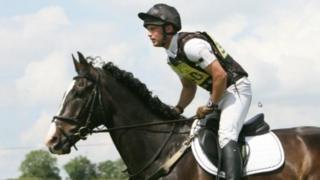 A horse rider died from critical chest injuries when his horse fell on him at an event in Somerset, an inquest heard.
Jordan McDonald's death at the 2014 Nunney International Horse Trials was ruled an accident by the coroner.
The 30-year-old Canadian was wearing a high-quality helmet but his body protector would not have met today's safety standards, the inquest heard.
The coroner said it was "disgraceful and disrespectful" that Nunney's safety steward did not attend the inquest.
'Disgraceful and disrespectful'
Coroner Tim Hayden said the steward, Major Jeremy Langlands, was on holiday in Cornwall and had informed him only a day earlier that he would not be at the inquest - too late for the coroner to issue a summons.
"I find his failure to attend quite simply disgraceful and disrespectful to the family of the deceased," he said.
Mr McDonald, who had been married for a year to fellow rider Shandiss McDonald, was based in Leicestershire.
His horse, Only Me, failed to clear a jump on a cross country course and the impact threw Mr McDonald to the ground before the horse fell "full square" on top of him, the inquest heard.
The coroner was told a team of doctors battled to save the rider, but his injuries were so severe he died shortly afterwards at the scene.
He died on 14 June 2014 - the same day another horse rider, Benjamin Winter, died in a fall at an event in Germany.
Mr McDonald's mother-in-law Peggy Wewiora travelled from Canada to attend the inquest, at Wells Town Hall in Somerset.
Mr Hayden said he would be writing to British Eventing, which oversees events such as the Nunney International Horse Trials, suggesting it carried out more stringent checks on all the safety equipment worn by competitors.