Exmoor Golden Horseshoe Ride may end after 50 years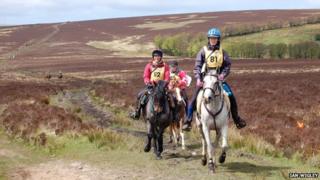 Organisers of the Golden Horseshoe Ride in Exmoor have said this year's 50th anniversary event may be the final one.
The 100-mile (160 km) horse ride takes place over three days and attracts some 200 entrants from all over the world.
Organiser Barbara Wigley said: "We're all getting old, we've all been there for many years."
The organising committee will all retire after the event, which takes place this weekend, but hope new people will take up the mantle.
'Well-supported'
The first Golden Horseshoe Ride was organised by the British Horse Society in 1965 and was the first event of its kind in the country.
Although its location moved around the UK it permanently moved back to Exmoor in 1974.
"The whole community have got used to it, it's very well supported and it brings a lot of money to the area," said Mrs Wigley.
"We did a survey done some years ago, about eight years ago we were bringing in £60,000 to £70,000 into the economy, so this year we're going to be well over that."
Riders cover large parts of Exmoor, such as the Tarr Steps, across varying distances over three days with some covering up to 100 miles (160 km).
Horses are tested for their endurance and speed, while riders also need to be able to navigate the terrain and keep the welfare of their horse in mind.
The Golden Horseshoe differs from other endurance challenges as the terrain is more rough and hilly. Different times and speeds for the horses are also set by the organisers which fit in better with the challenging landscape.