Avalon Marshes appeal to buy 'crucial' Somerset site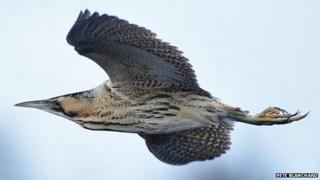 Wildlife experts in Somerset said they have a "once in a lifetime" opportunity to buy a crucial piece of marshland, which has prompted a public appeal.
The 12-acre site in the Avalon Marshes is said to be "the last crucial piece of land in a jigsaw of important wildlife habitat".
Bittern, otters, kingfishers, marsh harriers and bearded tits depend on the reed beds and pools of open water.
Somerset Wildlife Trust said it has until 30 June to raise £55,000.
The trust, which has owned the neighbouring Westhay Heath Nature Reserve since 1981, said the extra land would "create a larger, more resilient expanse of wetland habitat" to provide greater protection against localised extinction.
Tim Youngs said: "The land will be managed specifically for some of the county's most iconic wetland species including two rather elusive birds, bearded tit and bittern.
"Populations of bearded tit already thrive on the existing nature reserve but need bigger, better and more connected habitats to live, feed and breed."
"The land purchase provides our best chance of protecting these exotic looking birds into the future," he said.