Muchelney gives flood boat to rescue charity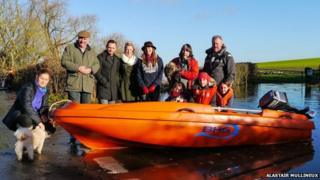 A boat bought by a group of Somerset villagers during flooding last year has been handed to a rescue charity.
Muchelney was the first village in Somerset to be cut-off by floodwater and it remained so for 10 weeks.
Local residents say the boat is no longer needed after major work was done to raise the road into the village.
They have decided to lend it permanently to BARB Search and Rescue which helped people on the Somerset Levels during the three-month crisis.
The boat was bought for the village with donations arranged by local businesses.
Following the flooding the main road into Muchelney was raised by more than 1.2m (3.9 ft) earlier this year.