WW2 railing spikes to be restored in Bath street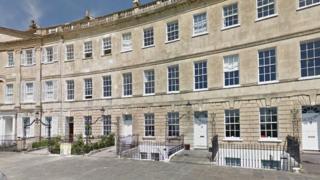 Railing spikes which were melted down to make weapons during World War Two are to be restored in a Georgian street in Bath.
More than 1,000 missing decorative spike finials are to be reinstated on the cast-iron railings in the Grade-II listed Lansdown Crescent.
Many of the original spikes were taken 80 years ago as part of the war effort.
About 20 terraced houses on the street will see their missing spikes restored following a campaign by residents.
Rebecca Derry-Evans, of the Lansdown Crescent Association, helped raise £17,000 to have the work carried out and said she hoped it would "kick-start" other refurbishment projects in Bath.
"Ever since I moved here I've just minded the fact there were these little stubby bits that looked like wounded soldiers, so I just desperately wanted to get the complete thing back," she added.
English Heritage and Bath Heritage Watchdog welcomed the news. The restoration is expected to be completed in April.