Bristol Hospital: Cancer surgery cancelled five times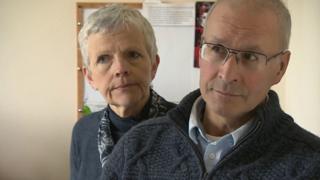 A cancer patient whose operation has been cancelled five times in Bristol has received an apology.
Charlie Mashin, from Crewkerne in Somerset, was diagnosed with cancer of the oesophagus last October.
In the last month, he has been scheduled to have surgery five times at the Bristol Royal Infirmary (BRI) but the 10-hour operation has been repeatedly delayed and cancelled.
The hospital has apologised and said surgery will go ahead on 11 April.
On 9 March, days after ending chemotherapy, Mr Mashin was due to undergo surgery at the BRI but it was cancelled because of the junior doctors' strike.
He was re-scheduled for 14 March but again it was postponed due to a shortage of intensive care beds.
A third date on 23 March was also cancelled and in the last week, the 63-year-old has found out that a further two dates will also not be going ahead.
Mr Mashin said he had been told that rapid treatment was essential in terms of survival rates for cancer.
"That's what we were counting on but we've had no answers on the situation and something needs to be done," he said.
'Severe pressure'
His wife, Helen, said the delay has been "exasperating".
"You're having to find the strength to keep going for the next opportunity," she said.
"And he's not the only person who has got this type of cancer - we were told they should have done nine last month and they've only done two."
In a statement, the University Hospitals Bristol NHS Foundation Trust apologised but said it was "under severe operational pressure" because of an "unprecedented number of patients" needing intensive care.
"We have now rescheduled Mr Mashin's operation to ensure his procedure is completed within the designated timeframe from his recent chemotherapy treatment," a spokesperson said.