Veteran, 92, forced to live apart from wife of 25 years after home care stops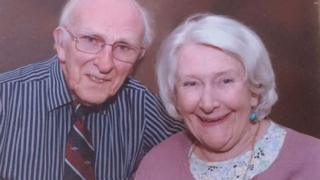 A 92-year-old man has been forced to live apart from his wife of 25 years after her home care was stopped.
Graham Brown's wife Julie was receiving daily visits from carers at their flat in Wells after coming out of hospital.
But Mr Brown said the service was stopped at short notice and now he has to make a two-hour roundtrip by bus to see his wife at a care home in Street.
The county council said it was working to find a solution after the case was first reported by the Wells Journal.
Mr Brown, who served as an RAF pilot in World War Two, said they were given just a few days notice that his wife's care visits would be stopping on Easter Sunday.
The following Tuesday she was moved to a care home.
"It couldn't be a worse situation. We haven't been apart at all really and it's terrible," he said.
"I can go on the bus but it takes me about an hour and all we want is to get back together again, in this flat."
A spokeswoman for Somerset County Council said Mrs Brown had been receiving "temporary support" from two carers following her discharge from hospital.
'Home care shortage'
"We have been working with Mr and Mrs Brown to find suitable care and equipment to support their needs in their own home," she said.
"There is currently a shortage of home care available in the Wells area but we are hopeful that appropriate support can be sourced locally to allow Mrs Brown to return home".
Nadra Ahmed, from the National Care Association, said it was a "culmination of really poor investment in social care" over the past decade.
"We are in this situation where people are not coming into the industry because it is a very poor sector which is very poorly paid," she said.