Eileen Gould in tears as fundraising cheque handed over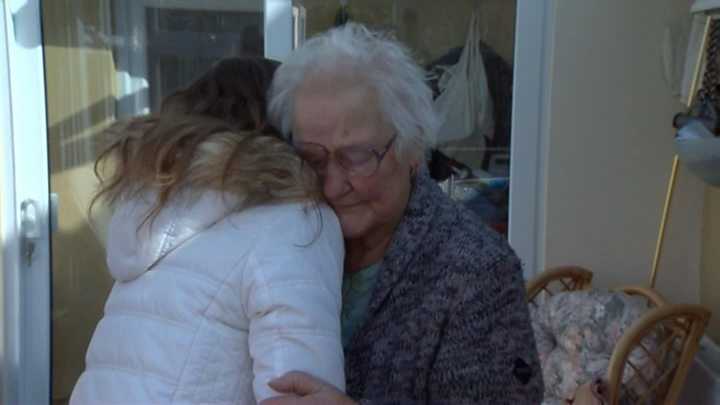 An 83-year-old woman who was conned out of £30,000 broke down in tears as a fundraiser handed over a cheque for £13,000.
Eileen Gould, from Somerset, was tricked into handing over her savings to conmen after being told her bank was being investigated by the fraud squad.
Lyndsey Brennan did not know Ms Gould, but was so "heartbroken" by her plight she set up a Go Fund Me website appeal.
Dozens of people contributed money after hearing of Ms Gould's situation.
Ms Brennan launched the appeal because she "wanted to help her smile again".
Ms Gould said the extra money had been "such a help" but said, after falling victim to the scam, that she went public to warn others.
'Stronger and brighter'
"It wasn't my intention to receive money, it was to save others which I know I've done," she said.
"By the letters and cards I've received I know I've saved other people."
Ms Gould's neighbour Justine North said since the fraud in March, she had become "much stronger and much brighter", and was "determined to get on with her life".
"People everywhere have rallied around, and the young lady who set up [the online appeal] has been such a wonderful citizen to do that."
Ms Gould was talked into withdrawing all her money from the bank following an "unexpected phone call from the fraud squad".
Over a six-week period, she was also persuaded to take out a loan and hand over £30,000 to a fake police officer who called at her door. Police are investigating.