Only Fools and Horses hearse for Frome man Keith Drew's funeral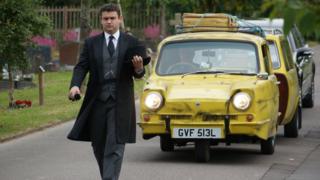 A big fan of TV's Only Fools and Horses was taken to his funeral in a replica of Del Boy Trotter's yellow Reliant Regal.
Keith Drew, from Frome, who died in May aged 76, loved the BBC sitcom and once owned his own Reliant van.
Del Boy star David Jason sent a message of condolence to the family after Mr Drew's daughter Jo contacted his agent.
Mr Jason said he was "pleased" that Mr Drew "had so many laughs enjoying the work that we did".
'Having a party'
"If the vicar is wearing a hat, tell him to keep an eye on it. I am sure your dad would appreciate that thought," he added, referring to a 1985 episode of the show based on the funeral of Del Boy's grandfather.
Jo Drew said: "We decided as a family that were going to celebrate dad's life, rather than commiserate his death, so we're having a party for him, really."
She said her father was "a massive fan" of the show and would be "chuffed to pieces" about his unique send-off.
His coffin was carried into Haycombe Crematorium in Bath to the theme from the show, Hooky Street.
The specially-designed three-wheel hearse was supplied by Fleetwood-based funeral firm Only Fools and Hearses.
It states that it offers bereaved families "a totally unique Del Boy send-off, as we know the Trotters have made us cry with laughter for over 30 years".