Bath Community Academy: Low pupil numbers force closure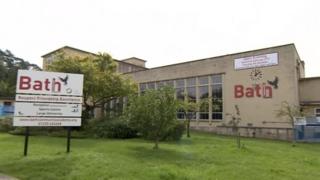 An academy school in Bath is to close due to low pupil numbers.
The foundation in charge of Bath Community Academy (BCA) made the announcement at a parents' evening on Monday.
In a letter to parents on Tuesday the Cabot Learning Foundation (CLF) said the school was not sustainable in the short term.
Bath and North East Somerset Council said the closure will be planned to minimise the impact on students.
The school opened in 2012 but has had consistently low pupil numbers.
It has capacity for 720 students but currently has only 290.
'Heavy heart'
BCA, formerly Culverhay School for boys, was inspected at the end of May and judged to be inadequate overall.
A statement from CLF said: "After much careful consideration, and with a heavy heart, [we have] taken the first steps towards the closure of BCA.
"In meetings that have taken place over the past couple of weeks, it is clear that those who know the school well are great supporters of its work and this latest development is being met with understandable sadness."
'Considerate'
The closure will not be immediate and pupils due to start there in September 2016 will not need to find another school.
Any pupils in years 10 and 11 beginning or continuing a GCSE course in September will be able to complete the course over the next two years.
The statement added: "While there is no definite timeframe for the closure of BCA, it feels considerate to inform parents and carers at the start of this process, rather than when it has been completed."
The council said families concerned about finding an alternative school place should contact their admissions team.
A spokesman added: "The council will work with Cabot, BCA and other local schools to help ensure that any impact from the proposed closure is carefully planned and managed to minimise impact on student learning."