Campaign launched to raise £4m to restore Wellington Monument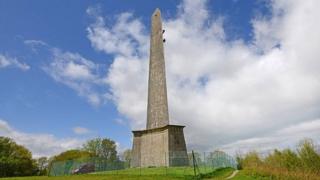 A campaign has been launched to raise £4m to help restore the crumbling Wellington Monument in Somerset.
The National Trust also plans to apply for a Heritage Lottery Fund grant to help pay for much of the repair work.
The 175ft (53m) landmark was built in 1817 as a tribute to the Duke of Wellington but has been fenced off since 2005 due to falling stone debris.
The structure is believed to be the world's tallest three-sided obelisk.
Project manager Helen Sharp said: "We are committed to looking after the monument, but we are a charity with limited resources to care for the many special places that we look after and only a small team to manage this project.
"Whether the project goes ahead will be dependent on securing major funding and having active support from the local community."
The monument is on one of the highest points of the Blackdown Hills and was erected as a tribute to the Iron Duke's military achievements at the Battle of Waterloo.